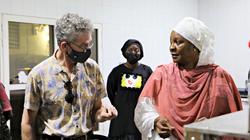 Female entrepreneurship in practice: visiting Kissima in Mali
This month PlusPlus' entrepreneur Kissima Industries received a guest. During his trip to West Africa, Cordaid director Kees Zevenbergen took the time to visit the Malian company of madam Assitan Keita. It was an interesting visit, with a focus on female entrepreneurship.
Kissima Industries was founded by Assitan Keita in 2004. She saw opportunities in the processing of desert dates, the fruit of the Balanites tree, also known as 'zeguene' in Mali. Zeguene is popular for its medicinal properties and sweet taste, but also for its versatility: from leaf to kernel, everything can be used. Kissima buys the desert dates directly from women's cooperatives and processes them into various products: soap, candy and tea or chocolate and vegetable oil. Because the tree grows in drier areas, it provides opportunities for people who have few other sources of income. In this case: for 16,000 Malian women.
Entrepreneurs in Mali face significant challenges, such as lack of information, lack of training and lack of access to finance. For women entrepreneurs, the challenges are many times greater. Unfortunately, women in Mali still face a lot of social pressure and there are few opportunities available to them. But despite the major obstacles they keep encountering, women are increasingly opting for entrepreneurship.
"The first years were very difficult," Assitan also recounts. She barely earned enough money to keep the business open. "Fortunately, my livelihood did not depend on the money I earned with my business. I had another source of income and my family was very supportive," she says. It was around 2014 when things started to change for her business, which has since then grown into a successful company and provides income to 16,000 Malian women.
Development organization Cordaid, also a co-founder of PlusPlus, supports women and girls to improve their position and participation in society. Financed by Cordaid's investment fund (CIM BV), Kissima received a capital investment to renew their equipment so they can further scale up their production, while the loans from PlusPlus' investors provide the working capital to buy more desert dates from the women's cooperatives. Together, this creates new opportunities for women entrepreneurs in Mali.