PlusPlus exists 6 months: here's how we invest in impact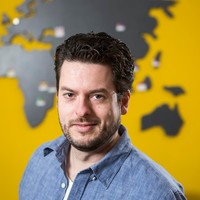 Written by Hans Kramer on 24 February 2021
Last weekend, PlusPlus existed for six months. Time to get the numbers up. What have we achieved together? What's going well? Where do we still have a way to go? We like to be open about this.
Are you new here? Then let me quickly explain our platform. At PlusPlus, people just like you and me share opportunities with entrepreneurs in the agricultural and food sector in developing countries. Because these sectors provide the most jobs in developing countries, but also because of their impact on food security. To make that impact, these talented entrepreneurs need capital. For example, to pre-finance seeds, fertilizers or working capital. And that's where you and I come in. We give our money meaning through these entrepreneurs. How it works? Click here.
A question could be: don't they have banks there? They do, but most companies in the sector are small and informal. For example, 95% of the farmers have less than 2 hectares of land, explains Professor Ruerd Ruben of Wageningen University. Local banks and international investors are ignoring these great companies. Too risky and especially too much work with too small an earning. They prefer to look for investments where they can invest relatively large amounts. Nice and efficient. But also with little impact.
 
The solution: access to finance
The solution to make a difference is actually simple: making affordable finance accessible to these small and medium-sized agricultural companies. We look at companies that produce food in an environmentally friendly and climate-neutral way and thus contribute to food security and more jobs for people in poverty. For this we work closely with the local people from development organizations Cordaid and Solidaridad. They know the entrepreneurs in which we invest.
 
6 months of PlusPlus in 6 impact figures
From the start, we've said: PlusPlus is ONLY about impact. We therefore do not pay out any financial returns to participants. But how much impact do we really make? And are we satisfied with that? To say something about this, we measure on the basis of the 17 Sustainable Development Goals of the United Nations. Let's take a look at 6 impact goals we've been working on over the past 6 months.
 
Goal 1: No poverty
The first goal is to eradicate poverty by 2030. Not an easy task, and it we will certainly not achieve this with PlusPlus alone. But we can take our responsibility for it and make our contribution. And we do that with gusto.
In our first half year, our crowd invested € 240,000 in 7 different companies. From Indonesia to Kenya. Through them, more than 4000 farmers have seen their income increase. That is an impact that we are proud of, but of which we also recognize that it is difficult to quantify. We want to gain even more insight into this in the coming period.
 
Goal 2: Zero hunger
Professor Ruerd Ruben of Wageningen University clearly outlines how the growing world population and the trend of urbanization increase the problems of hunger: "The more people there are and the more of them live in cities, the more important it is that the agricultural sector does not only produce for itself, but also for the food supply of the urban population. Growing food for the market is becoming increasingly important."
To achieve this, we need more farmers or the existing farmers must be able to harvest more and with higher quality. With the € 240,000 invested so far, more than 1,250 farmers have gained knowledge about sustainable food production through our entrepreneurs and 900 of them see a direct impact on the quantity and quality of pineapples, cocoa beans, potatoes and corn on the cob they harvest. Here too we want to be honest: how much more they harvest exactly is not always easy to measure. So there's work to be done.
 
Goal 5: Gender equality
We see a clear picture that female entrepreneurs on our platform are funded faster. It is undeniably an important topic. And with good reason: as many as 1 billion women live outside the formal financial system and 80 percent of women-run companies do not receive the capital they need. Worldwide this equates to a financing deficit of 1.7 billion dollars.
Until now, 2 of the 7 companies on PlusPlus are run by a woman. That is a mere 30%. But we have some good news: new female entrepreneurs are coming soon and our deal originators are keeping their eyes open to add more female entrepreneurs!
 
Goal 8: Fair work and economic growth
Jobs are the way to contribute to a growing economy. And SMEs are the engine for jobs in developing countries. But how many jobs have we created? That is difficult to say exactly. We know that we have enabled 26 direct jobs in the 7 companies we have served. That means an average of almost 4 new people per company, and 1 new job for every 9,000 euros.
That is pretty nice in itself, but at the same time feels like a drop in the ocean. We know there are millions of people out of work. Our ambition is therefore much greater and we also think that we have indirectly created more jobs, for example among the 4,000 farmers we have reached through our entrepreneurs. By increasing the incomes of these farmers, we at least know that our impact on economic growth goes beyond the 26 new jobs.
 
Goal 10: Less inequality
We hear it from many people we speak to. Via PlusPlus we share our opportunities with talented entrepreneurs on the other side of the world. We are no better than them, but we are aware that we belong to the rich part of the world. That realization alone reduces inequality.
But we put our money where our mouth is. The fact that we were able to invest so much money in the first 6 months shows that our lenders seriously contribute to more equality and that the potential of initiatives such as PlusPlus is enormous.
 
Goal 17: partnerships  
The whole is more than the sum of its parts, I once learned. 1 Plus 1 can easily become 3, and 1 Plus 1 Plus 1 suddenly becomes 10 when we work with development organizations, large companies and private savers and investors. We are therefore proud of our founding partners: Lendahand, Cordaid, Solidaridad and Truvalu. But also oforganizations such as the Dutch Postcode Lottery, Achmea and others with whom we work together for more equality and less poverty. And of course we are very proud of all 400 people we were able to welcome in the first 6 months of plusPlus.
It's great to do this together and to encounter so much enthusiasm. But we realize: we are only the enablers, the people who make the preconditions possible. The greatest heroes in our joint adventure and our most important partners are our entrepreneurs. They make the real impact!
Do you contribute to these great goals? Create your account today! Here we explain how that works.