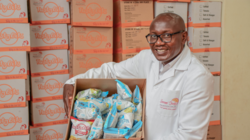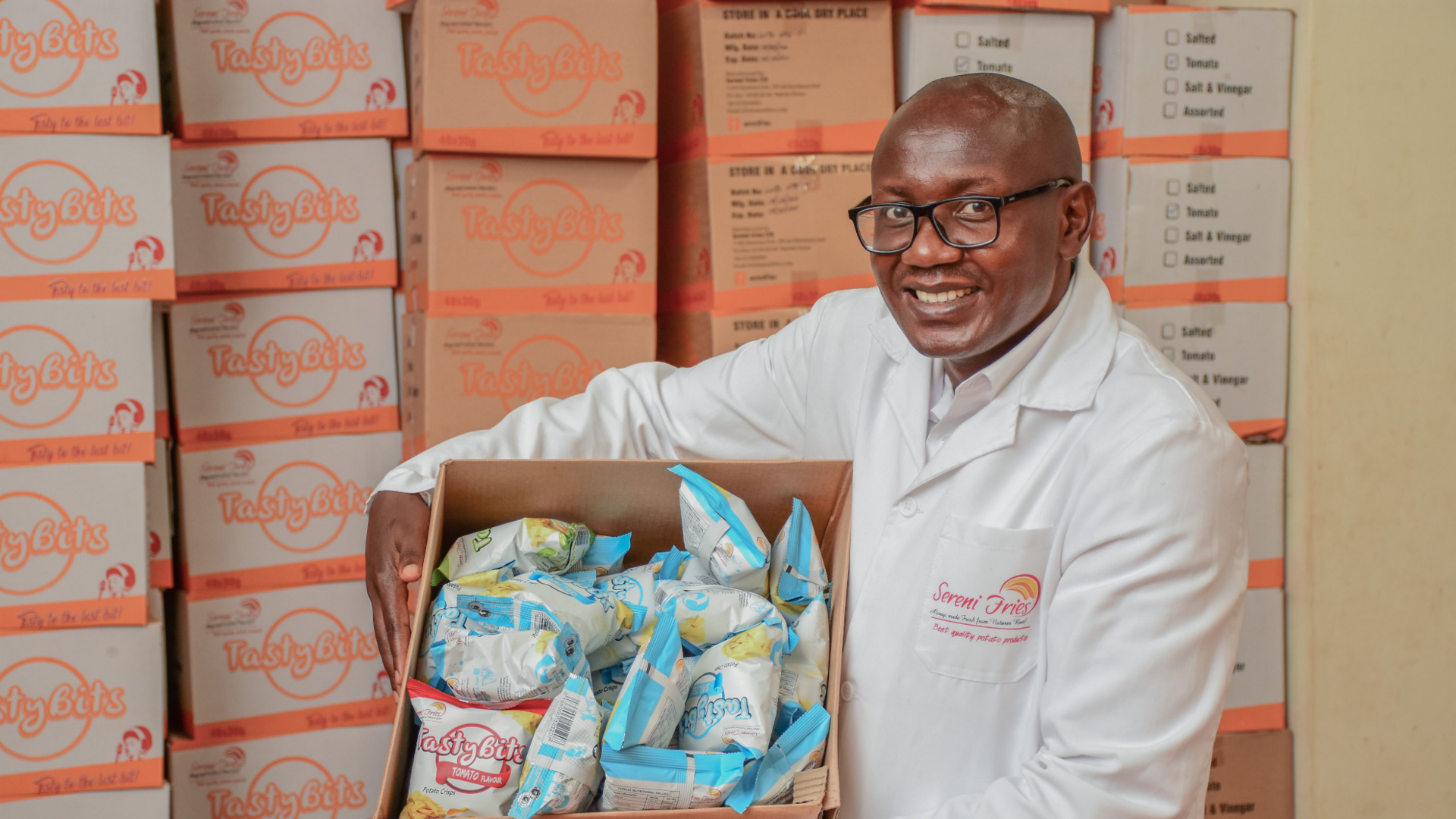 Because of PlusPlus, we get to plan for a future.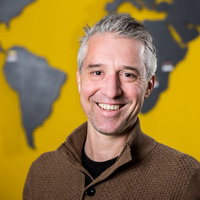 Written by Peter Heijen on 16 December 2020
"Because of PlusPlus, we get to plan for a future."
He was one of the first entrepreneurs on PlusPlus: Humphrey Mburu, director and founder of Sereni Fries. In October, he received his first loan. What has the company done with that loan, up until now? Humphrey explains all in a brief interview.
 
What kind of company is Sereni Fries?
Sereni Fries is a company in Kenya that buys potatoes from local farmers to make crisps." Even though Humphrey used to work in the banking world, he really wanted to be an entrepreneur. "I just like doing business", says Humphrey. In 2013 he visited the Netherlands and noticed just how big the potato product market was. This gave him the idea for his business: Sereni Fries.
 
How does this company make a difference to local potato farmers?
"When we just started, I bought potatoes at the regular market. We had a lot of issues regarding high prices and getting the right quality and amounts. The farmers also appeared to have issues with the intermediate trade. They cultivated their potatoes without having a specific goal or market in mind. They grew their potatoes in an old-fashioned way and got paid very little for them. This made us decide to forego that indirect market and buy from them directly.
The farmers primarily want stability. We offer them a platform which shows them exactly which variety is most in demand and they should therefore grow. We bring them together, and also match them with suppliers of seeds, pesticides and fertilisers. This is how their prospects improve and also their techniques for growing potatoes. This has meant a major change in the quality as well as quantity of their produce. Furthermore, the farmers know which price they will receive for their produce even before it is out of the ground."
 
Sereni Fries has just received a second loan. Can you tell us a little about the impact?
The impact of the first loan was tremendous! We bought raw materials (potatoes) with it and paid for them immediately. The farmers are in dire need of the money. We were also able to make some overdue payments, that had arisen due to COVID-19, and we have implemented a salary increase of 15% for our employees. Thanks to the increased production we have already hired 6 new people. We hope to keep making improvements with the next loans, so we can continue on this path.
 
How do you see the future?
"We would like to increase our capacity, produce more crisps. Up until now we couldn't scale up, even though the demand was huge. Increasing our capacity is done through more employees, but also by using better equipment for all processes, from peeling potatoes to packaging crisps.
Another plan is to increase our storage facilities. Now we are able to store 500 tonnes, we want to more than double this, so we can buy more raw materials from more farmers. That will make an enormous difference, also for the farmers themselves! And we are currently working hard on marketing our product "Tasty Bits"; these are exciting times for us.
We are very positive about financing via PlusPlus, it helps to ensure a steady supply of potatoes from now on., which in turn helps us to plan long-term for the company. This is how we can grow. We really appreciate your support!"