"When people have a secure livelihood, they also tend to take better care of the environment"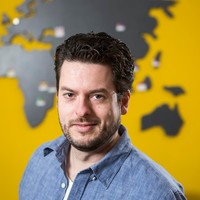 Written by Hans Kramer on 18 June 2021
Ilse Duijvestein is an enthusiastic investor at PlusPlus. "It's only tiny amounts thought," she explains. But she is very clear: "I certainly don't see my investment in PlusPlus as a gift. I really want to get back what I have lent out. In doing so, I am expressing confidence in the borrowers."
 
"What's in it for me is that I see it as a piggy bank. I cannot access the money that I have loaned out at PlusPlus. I take this risk because I very much believe in providing temporary financial support to people who need it. I see the necessity of supporting the poorest people in rural areas. I see the fifty euros that I lend out per project as a walking wallet. The farmer can invest with it, the money comes back and I send it into a new project."
 
50-year-old Ilse teaches mathematics and has a history in urban design where she focused on ecology in urban development. "I've seen a lot of Latin America. In Mexico, for example, I studied how tourism could boost the local economy."
Motivating young people
After ten years of working in sustainable urban development, Ilse gave up the "mainly office-centered life of meetings and typing" to go to art school. "A wonderful education that unfortunately barely earns a living." Now she has been an enthusiastic math teacher for over five years.
She sees overlap in both professions in terms of thinking in structures and systems. "I challenge my students to think about world problems. Then I start class with, for example, a 'Shell Shareholder meeting with a motion by Mark van Baal.' I find that young people find topics like sustainability and the environment fun and exciting.  They think Tesla is cool. Tesla is not that cool. We could share so much more among young people. Because the interest is really there."
Reliability
Despite the relatively high risks of PlusPlus projects, Ilse supports them wholeheartedly and with confidence.  "I see professional reliability in this club. The entrepreneurs want to make a living and move forward. You know what ties up my stomach in knots? That tv-show where people pitch their project to potential investors. There, it's no longer about the product, but about the maximum return. A good example is a soap dispenser that is put on the market. By increasing the dosage, you earn more. Sounds financially smart, but I see that as unreliable and far from sustainable."
Environment
"I like to help people in poor countries become independent so they can be strong. If they are helped, I am helped too. I believe that less poverty also means less war, less stress, less refugees.  Moreover, I see the link with caring for the earth in terms of climate and environment. If people have a secure existence, they also tend to take better care of the environment.
I didn't dare buy jeans for ten years because I felt guilty about exploitation. To solve environmental problems and promote fair trade, we must pay attention to the conditions in developing countries.  Animals are poached and forests cut down because poor people also have to earn a living. Basic needs are simply more important than environmental issues. If there are good jobs, there will also be more willingness to take care of the environment." 
Calculating
How logical is it for a math teacher with her arithmetics to make risky investments? Ilse laughs and cites a quote from cabaret performer Jan Beuving, who said in a show, "In math, everything adds up but nothing really happens, while in real life, everything does happen while nothing adds up.
In a math sum, someone buys 100 lemons. Very few people do that in real life. In real life, a football ends up in the bushes, in a math sum there is always a neat little curve. Modeling is just statistics. In the end, nobody knows.
I do enjoy this kind of risk-taking. With PlusPlus, it only involves small amounts that I can spare. For a larger pot, I have money in a sustainable investment club. I've done extensive research on that. I want to invest not gray, not light green, but really dark green in the hope of building up some retirement income. I ended up with Stan&Wende."
Awareness
Organizations like PlusPlus should be more visible, Ilse thinks. "I'm the kind of person who puts a poster in the window to reinforce my point of view. I also try to make my children, aged 11 and 9, aware of the world we live in. They know Jeroen van Merwijk's "The Rich West" by heart, for example. (We are the rich West, we have everything and the rest has nothing). My own standard of living is modest. When my washing machine breaks down, I have to save up for a new one. In the past I have often been able to borrow money from my parents. I've experienced firsthand how essential a loan can be to remaining independent." 
Pride
"It makes me especially proud to be part of a club like PlusPlus. I like the transparency. The fact that videos are made of the borrowers is enough for me. I don't even necessarily need to see such a video. If I see a face with a smile and a piece of fruit I am satisfied."