1 year of PlusPlus: these were our first results and biggest challenges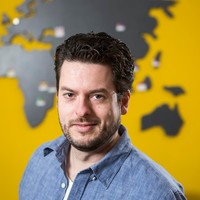 Written by Hans Kramer on 19 August 2021
In August 2020, the time had finally come: after 2 years of preparation, PlusPlus was launched. Finally we could start with our mission: making social impact by connecting agri-food entrepreneurs in developing countries with investors in the Netherlands. Like any start-up, we faced some challenges. In this blog several people from our team look back on the first year of PlusPlus.
A better income for 5,000 farmers
First of all, it is nice to mention that our crowd provided no less than half a million euros in loans last year. 5,000 farmers worldwide received a better income and 1,500 farmers saw their food production increase. Great results, of which we are very proud! 
An exciting year
PlusPlus launched in a year when a pandemic shook the world. And not just in the West; our entrepreneurs around the world were also affected by measures that impacted their businesses. Transport came to a halt, raw materials were in short supply and profits were disappointing. "The fact that a year later these companies are back at full strength and have repaid their first loans shows how resilient our entrepreneurs are" says Suzanne Larsson, co-founder of PlusPlus. "And that gives confidence for the future." 
Much interest from entrepreneurs
These entrepreneurs are carefully selected by the PlusPlus team. From the offices of our partners Solidaridad and Cordaid, local colleagues look for suitable companies. This sometimes involves finding the right balance between working efficiently and serving the entrepreneurs as well as possible. "Demand is high," says Peter Ayara from Kenya. "Many companies are interested in PlusPlus, so our pipeline of projects is growing." 
Alejandro Cunningham in Central America also sees plenty of enthusiasm. His region got off to a slightly later start, but is now all set to deliver new projects. "PlusPlus is more flexible than other financiers, which is advantageous for the entrepreneurs," is how Alejandro explains the growing interest. "What could be even better? If we also offered loans in U.S. Dollars. It would save entrepreneurs money if they don't have to change from Euros to Dollars". 
"Who knows in the future...", says Investment Manager Lars van Doremalen about Dollar Loans. For now, he mainly wants to finance more nice companies. And refinance them. "It's always great fun to be involved with a new company, but companies that come back because they grow and need more funding are perhaps even a nicer indication of success and real impact," Lars says.  
Measuring impact
What that impact looks like? Our colleague Judith Mathijssen can tell you a lot about that. "PlusPlus actively contributes to the Sustainable Development Goals of the United Nations, including equal opportunities for women and sustainable food production. We therefore want to attract more companies with a focus on climate-resilient agriculture or that are led by women. In the past year we have developed a so-called impact framework. This gives us better insight into the effectiveness of our approach. Not only by measuring the results, but also by understanding the entrepreneurs' stories behind the figures. We hope that this will also motivate other organizations to give agri-food entrepreneurs in developing countries better access to finance."
Strict regulations
Another challenge is the regulations PlusPlus has to deal with. Through founding partner Lendahand, we are one of the few players in the market to be licensed by the Netherlands Authority for the Financial Markets (AFM). This brings with it strict rules. For example, we carry out very strict checks on our entrepreneurs. Colleague Lars: "To be honest, we find these checks very heavy for the type of small businesses we help. These rules and regulations are designed for large financial institutions, not for initiatives such as PlusPlus. Checks are important in our work, but a somewhat lighter procedure for the smaller-scale companies would be good." 
Sometimes the regulations also make things more difficult for our investors than we would like. "Creating an account on our website is something we would like to make easier," says Marketing Manager Michelle Schouwenburg. "We are hopeful that the rules for giving smaller loans will soon become a bit more flexible, because new European regulations are coming. We are keeping a close eye on the developments." 
Hundreds of committed investors
This first year, PlusPlus has built a loyal group of several hundred investors who are very involved and often give multiple loans. "Fantastic!" says co-founder Peter Heijen. "Of course, it was quite exciting beforehand whether people would be willing to give a loan without getting a financial return. Our investors are showing that they are". 'Frontrunners' he calls them, because they were so quick to embraced PlusPlus' innovative proposition. "It's wonderful to see that so many people believe in this and are selflessly investing in a more beautiful world. I would like to compliment all the investors in PlusPlus with that and thank them very much!", says Peter. 
Looking ahead
For the coming years, above all PlusPlus wants to continue to grow. Because in order to work more efficiently, more scale is needed. This means more new projects, with more diversity, in more different countries, together with more new investors who provide loans to make even more  impact. We are already looking forward to it! 
Our entrepreneurs also sent a video message to congratulate PlusPlus. Click here to watch their message.